Ever wonder "is my writing/book/character worth a dime?" Well, there's a few things you can do in order to make sure. None of them are fool-proof, and all of them have their pitfalls, but you can improve your work and have new and improved ways to ensure you've done things the best you can.
Also, long article today. Fair warning.
Reading Level Test
This test won't be able to tell you if your book makes sense or if it has deeper artistic merit, but there is something to be said about the ability to string together words into a sentence. Your story idea could be the greatest thing since sliced bread, but it won't matter if you can't communicate it.
Probably the easiest (and safest) way to do a readability test is through MSWord's "editor" function (used to be spellcheck, for you fellow fogies). Unfortunately, the new version of MSWord makes you go through all of the spelling and grammar "mistakes" before the analysis will show up. If you are writing a fantasy, sci-fi, or other piece with a lot of non-standard words, the MSWord built-in statistics might not work for your whole book. However, you can copy a more manageable selection into an alternative document and perform the test on that. Sampling errors may apply.
In MSWord, your output window will look like this:
Don't let a "low" grade level scare you. A book with a sixth grade level score will be easy to read for a large number of people, which is good. I took the excerpt Penguin offers for A Game of Thrones, and the Flesch-Kincade Grade Level on MSWord was 5.6. Remember: the grade level your book is scored doesn't mean the book is for kids or isn't literarily sound. It means the book may be easier to read. If you're writing fiction, remember that most adults who read for fun aren't going to seek a book that will force them to look up words every few minutes. They're going to put down books with sentences so wordy they'll have to re-read them. A book for adults should be easy enough to read that they won't have to try.
However, let's think about this from the other end: if you go much lower than a 4th-grade level, your sentences may feel repetitive or so simple that a reader could get bored. A children's book has simple sentences so children can learn to read different words and gain confidence. Once that confidence is built, they can move to grander sentences.
In my opinion, anything between 4th and 8th grade should be sufficient for an adult fiction. YA shouldn't be much different in terms of reading requirements, just in the grander content and character age.
If you don't have MSWord or you have too many fantasy words in a passage, online tools such as this one exist.
Number of Characters
This isn't like Twitter – it's not a count of letters. It's a count of how many persons are in your book.
Because, believe me, it's far easier to get your book filled with too many characters than to not have enough. Don't believe me? Think of your favorite episodes of TV: many people love those episodes with just one or two characters trapped in a cave, or a spaceship, etcetera. The episode "Fly" in Breaking Bad is this way. These "bottle episodes" are hugely popular because they explore the activities and relationship of only a couple characters, or maybe even just one character.
If you're in my audience or if I'm in your audience, though, we're probably thinking about fantasy, sci-fi, or some other form of fiction. So let's use a good ol' standard: The Hobbit. J.R.R. Tolkien's prequel to The Lord of the Rings trilogy has 40 characters, and that's including everyone from Bilbo and Smeagle to Carc, a raven. That's a fair amount of characters, because you can keep up with them.
Here's another way to think about it: how often do you introduce a new character? I once beta'd a book (probably for a young person, so I'm sure they've improved since) which included something on the order of 200 characters for 100,000 words. That's literally a named character introduced, on average, every 500 words. Tolkien's The Hobbit has 95,000 words. On average, that's a new character every 2,400 words. I find that if you have at least 1,500 words per character, you're going to be fine. I aim to be right there where The Hobbit is when I write a novel.
So yes, here's the test:
[Number of Words in Book]/[Number of Characters in Book]
And that's it. It's up to you if you want to include unnamed characters, which I tend to do. I keep a running list as I write.
Diversity Tests
I love these tests because it can help you realize when you've done something accidentally wrong, and it does so in a recognizable fashion. The tests I'm going to suggest are based on the Bechdel Test and the Mako Mori Test.
The Bechdel Test is a very basic test for female representation. In this test, the requirements to pass are:
Have two female characters with names.
These two characters talk with each other about something other than men.
That's it. It's also incredible how many books fail – including the aforementioned The Hobbit. You can also apply similar characteristics to characters of color, LGBTQ+ persons, persons with disabilities, or whatever.
There are two caveats to this test I want to talk about, though: one is that, sometimes, it doesn't make sense to pass. Let's say you've got a story set on a war ship in WWII. It'd take a very special situation for a woman to be on the ship, much less two. To pass the Bechdel test in that situation would be odd. Similarly, if you don't have multiple races present in the location or setting (i.e. Ancient China or pre-exploration Australia), you might not be able to pass the test with a racial slant.
The other caveat? There are stories that would fit a feminist slant without passing the Bechdel Test.
For example: Mako Mori was a character from the 2013 film, Pacific Rim.
The Mako Mori test requires the presence of one female character who has her own plot arc, and neither that character nor that arc exist to supplement or serve a male character. To me, this test helps detect one thing the Bechdel Test can't: tokenism. You can pass the Bechdel Test and have those characters still not matter. Once again, the test can also be applied to any sort of diversity marker.
Just to be real, though: there is no single way to get this right. You can do any number of tests, any amount of study, have sensitivity readers, everything – and still fail. That doesn't mean you shouldn't try or that your shouldn't include diversity in your books. It just means you will always be limited by your own life experiences, and learning is the key to your expansion.
Mary Sue/Gary Stu Test
Someone out there is inevitably asking: what is a Mary Sue/Gary Stu?
A Mary Sue (we'll just use Mary Sue for now) is a character who has too strong powers or overworked personality traits. Physical appearance can be indicators of Mary Suedom, especially as they veer away from anything "normal." As a whole, I classify Mary Sue traits as almost anything that can be "cringey" but not in a "creepy, touchy uncle" kind of way.
Think: something a teen would write (poorly). Something a middle schooler would think so dark it makes a black hole look light. See the wordy and very crude/insulting/awful/potentially-triggering Coldsteel the Hedgeheg meme below for the most stereotypical Mary Sue nonsense: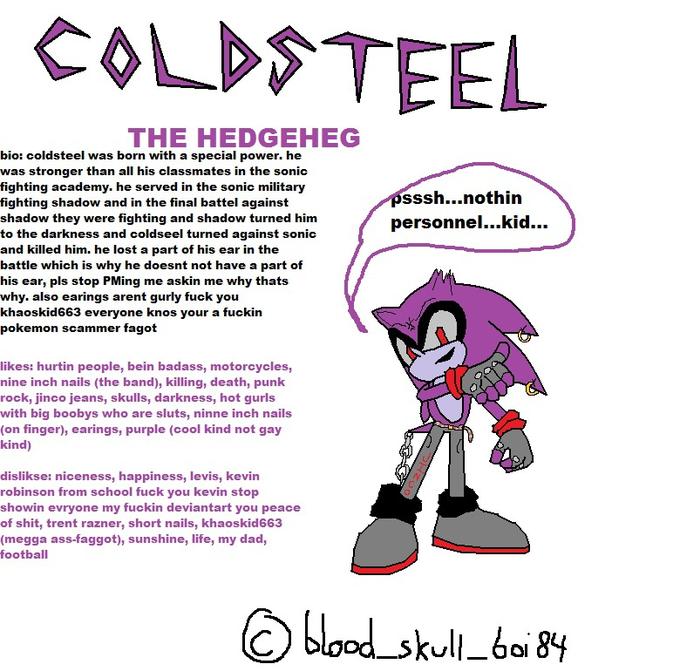 But for those of us who don't have a main character named Coldsteel the Hedgeheg, there's more reasonable tests like this unsupported one. That test is no longer suggested by its creator, and I understand: the scoring at the end doesn't really work. I suggest it, though, so you can think about what's going into your character and what other people could see. Not all of these things are bad for every character, and often nuance can make many of the Mary Sue traits work. Breq/Justice of Toren from Ancillary Justice is an example of a Mary Sue that works. What's important is to know what sort of pitfalls you may have fallen into. It's more useful as a thought-provoking test than anything else.
Beta Testing
That's right. You can do all of the above alone, in the comfort of your own home, without a single scary foray into the minds of others. If you want to share your writing – for what is writing but a plan to share an idea with someone, even if that someone is a future version of yourself? – you'll want to get a second opinion.
That's where beta readers come in. Get opinions on your diversity, your character quality, and some idea of common grammar mistakes you make. Try to get a variety of readers, and have fun.
For more information on beta reading, I've got a slew of articles under "Beta Reading" on my Writing Resources Page.
Do you put your stories through other sorts of tests? Let me know in the comments, or look through the comments for additional thoughts!